SoCal Bronze & Sterling Cast Bronze provide architectural graphics to the US market, but also "after the sale" services. Installation and Restoration are two of the most popular requests from our clients. Our installers are licensed and come with years of experience. Once your product is installed, we provide you with maintenance recommendations.
And if your metal plaques or statuary needs "cleaning", our restoration group can be available to perform "on-site" restoration of your memorials, wall programs or monuments. And our restoration group not only works with cast bronze and aluminum, but also other alloys, like Stainless Steel, Cooper, Brass and Masonry. Whether it's plaques, letters or sculpture, you will have certified specialists to bring your products back to their original condition.
Plaque Installation Walk-Through
Delivery & Inspection
Location selection
Site Preparation
Plaque Mounting
and ALL the Details!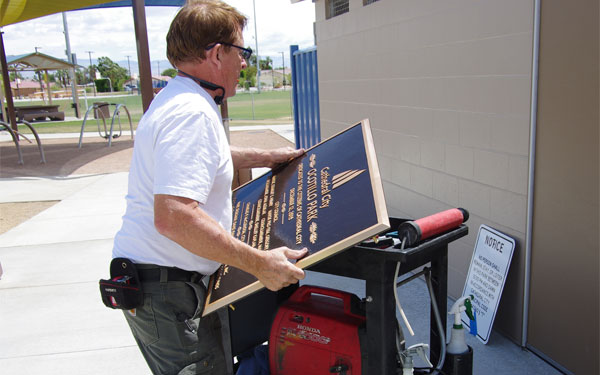 Installation Services…
Whether your installation location is on a freeway overpass, on campus at a university or even at the famous Pasadena Rose Bowl, our installation professionals have the experience and credentials to facilitate your installation. Our installation personnel are fully insured and can install both ground level and elevated architectural plaques, letters and graphics. Plaques can be mounted on just about any surface, from a stucco wall to a large boulder. Our letters are installed with adhesives for letters up to 2″ high, and studs on the backside for larger letters and graphics.